List of South African Lesbian and Bisexual movies/series.
In no particular order, this list is by no means exhaustive.
uNomalanga and the witch
Director: Palesa Shongwe
Year: 2014
Duration : 27 min
Two women, Nomalanga and Salome played by Mmabatho Monshto and Ferry Jele, form an unlikely friendship. One an outcast and the other a dutiful wife and diligent christian.
Here's a review I wrote about it.
The World Unseen
Director: Shamin Sarif
Year: 2007
Duration: 94 minutes
This movie was adapted from Sarif's novel of the same title. Set in 1950's Capetown at the onset of apartheid in South Africa, it tells a story of forbidden desire, seemingly insurmountable odds and the triumphant power of love. It stars Sheetal Sheth as Amina, a rebellious woman ahead of her times and Lisa Ray as Miriam, a demure wife and mother of 3 who, with Amina's encouragement, finds her own voice. Ray, Sheth and Sarif also brought us I Can't Think Straight
While You Weren't Looking
Director: Catherine Stewart
Year: 2015
Duration: 1 hour 44 minutes
The film stars Thishiwe Ziqubu as Shado, a street smart lesbian woman from Khayelitsha and Petronella Tshuma as Asanda, a privileged somewhat naive young woman from the suburbs. Asanda also happens to have two lesbian moms. It juxtaposes Shado and Asanda's different worlds in the new South Africa as they meet and fall for each other.
Sina Nomakotshana (Dance with the maiden)
Writer/Director – Thishiwe Ziqubu
Director of Photography – Gaopie Kabe
Year: 2016
Duration: 24 minutes 
While training for her traditional Zulu initiation, a young woman falls in love with her dance partner. Starring Zikhona Bali, Mandisa Nduna, Nolwazi Shange & Simo Magwaza
Winner of Best SA Short Film at the Durban Gay & Lesbian Film Festival.
Society
Director: Vincent Moloi
Series: 2 seasons
Year: 2007-2010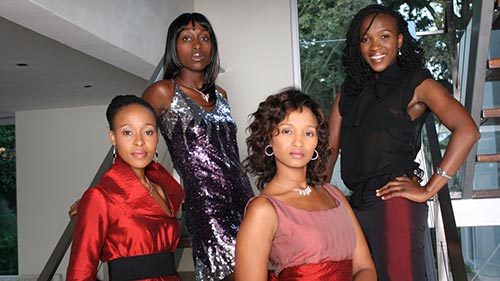 Commissioned by SABC, the first season has 4 episodes that an hour in length followed by, after positive reception, 26 episodes in the second season which are 30 minutes long each. It stars Zandile Msutwana, Samantha Tyelbooi, Lali Dangazele and Sibulele Gcilitshana as Akua, Lois, Innocentia and Beth respectively. Beth is the reason the series is on this list, she is a closeted lesbian living with her girlfriend, we see the toll her refusal to be out has on their relationship. The four friends are reunited by the death by suicide of their friend after many years and while assisting her mother to arrange the funeral, create a Society. It goes on to explore their lives and loves in Johannesburg. Society Puo Pha's first television production.
If you know of any others, please leave them in the comments below.
---